Sneads Ferry, North Carolina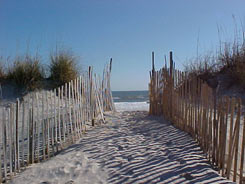 Sneads Ferry, North Carolina just might be the catch of the day - at least for seafood lovers. A small fishing village located across the Intracoastal Waterway from Topsail Island, it brings in literally boatloads of seafood. The annual catch includes more than 385 tons of shrimp, 25 tons of flounder, and approximately 493 tons of other seafood such as clams, scallops, oysters, mullet, spots, grouper, hard and soft shell crab and sea bass.
The town dates back 1728, when Edmund Ennett established a ferry which was an important link to the Post Road linking Suffolk, Virginia to Charleston, South Carolina. Due to increased traffic, a second ferry began operating on the opposite bank of the New River. This ferry was operated by Robert Snead and it wasn't long before the community that would become Sneads Ferry began to prosper. The ferry was replaced by a swing bridge in 1939.
It is a busy community. Most of its residents are involved in the seafood industry, whether bringing in the catch or serving the day's catch in local eateries. A number of festivals and events are held throughout the year, including the annual Sneads Ferry Shrimp Festival which takes place the second weekend in August. Locals and visitors turn out to enjoy the local delicacy and to enjoy the arts and crafts and entertainment. This festival includes a parade, a Shrimp Ball and a trio of Shrimp beauty queens. It is not to be missed.
Other events include the Blessing of the Fleet, several fishing tournaments such as the King Mackerel Tournament, Harvest Fest and Winter Fest. Senior citizens are treated to an annual dinner by the Rotary Club.
Sneads Ferry is more than just hauling in the catch and serving it up. An active community theater puts on three major productions each year and there is a community chorus. Outdoor activities - other than fishing and water sports - include horseback riding, hiking and birdwatching.
Would you like this content on your website or do you have any questions about this article? If so, contact publisher@mediaservices1.com.