<< Back
|
Local Weather
|
Local Tides
|
Golf Courses
Caswell Beach, North Carolina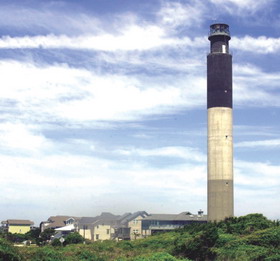 LOCATED AT THE SOUTHERN tip of coastal North Carolina, Caswell Beach combines two enviable elements: the beach life and the small town. Facing south, Caswell Beach is shielded from the busier tourist rush that sometimes consumes Southport and the rest of Oak Island.
With only 461 residents on this four-mile stretch of beach on Oak Island, Caswell Beach spurns commercial development in favor of small local businesses and restaurants. The town's top priority is protecting the beach and the turtles that nest there. Loggerhead turtles, the most common, usually arrive in mid-May and dig their nests during the summer, and turtle watches are more a passion than a hobby for many residents. Since man-made light is a potentially deadly hazard for young turtles, drawing them inland instead of out to sea, beach cabin owners are asked to douse their lights after dark.
Besides observing turtles, other favorite outdoor activities include boating and kayaking, and biking is popular because much of what there is to see and do in Caswell Beach is easily reachable without the necessity of an automobile. Seven golf courses are nearby, including Caswell Beach's own Oak Island Golf Club, a semi-private club that offers moderate greens fees.
Caswell Beach is a community in every sense of the word. Many of the events sponsored by the town are low-key, aimed at fostering community spirit rather than providing entertainment. One popular event is the Oak Island Christmas Parade, in which all of the towns and communities of Oak Island sponsor a float. The town also hosts a variety of themed parties throughout the year, such as luaus or western shindigs. Despite its remote location, Caswell Beach is less than 30 miles from the shopping and dining of Wilmington and near many great dining options in Southport.
" The town's top priority is protecting the beach and the turtles that nest there. "
Fort Caswell, built beginning in 1827 to guard the mouth of the Cape Fear River, is located on the northern tip of Caswell Beach. During the Civil War, its job was to keep the port of Wilmington open. Another landmark within the boundaries of Caswell Beach is the 58-foot-tall Oak Island Lighthouse.
Caswell Beach features a beautiful shoreline and has been blessed with a strategic location, both for sea vessels and sea turtles. But it also is a close-knit community that takes its social responsibility seriously.