<< Back
|
Local Weather
|
Local Tides
|
Golf Courses
Winston-Salem, North Carolina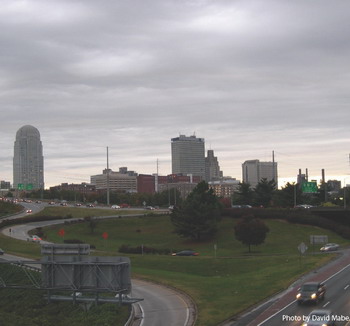 TWO NEARBY TOWNS SETTLED nearly a century apart and for vastly different reasons are now one thriving city with a well-earned reputation as a center for Southern and American arts.
Winston-Salem, located in North Central North Carolina, has earned its designation as North Carolina's City of the Arts. More than 250 years ago, early settlers in Salem formed the first community orchestras and chamber music ensembles in the American colonies, and they also were among the first to build organs and stringed instruments in this country. The Winston-Salem Symphony, which will celebrate its 60th birthday in 2007, is the oldest city symphony in the state, and the nation's first arts council was established in Winston-Salem in 1949.
Salem, by far the older of the sister towns that became one city, dates back to January 1753, when Bishop August Gottlieb Spangenberg chose a site for a settlement on Muddy Creek, on behalf of the Moravian Church. He called the area Wachovia, today the name of the fourth largest bank holding company in America.
Settlers began arriving 11 months later, establishing the town of Bethabara. After a dozen years, they started building a new town, Salem, at a nearby location. Many of the town's original buildings have been restored or rebuilt. Salem Square and the adjacent Moravian graveyard are now the site of an Easter sunrise service that draws thousands of people each year.
"... early settlers in Salem formed the first community orchestras and chamber music ensembles in the American colonies. ..."
Winston, named for Revolutionary War hero Joseph Winston, did not adorn the map of North Carolina until 1849. It thrived as an industrial center, producing furniture, textiles and tobacco products. Winston was chosen as the county seat of the newly-formed Forsyth County in 1851, and, with plans already in the works to combine the two nearby cities, the county courthouse square was located just a mile north of Salem's square. The two towns didn't officially become one until 1913.
The city's historical attractions include the Old Salem district; the site of Bethabara; Reynolds Village, including the Reynolds House Museum of American Art; Horne Creek Historic Farm; Tanglewood Park; and the Southeastern Center for Contemporary Art.
Winston-Salem also is home to the renowned North Carolina School of the Arts, the first state-supported school of its kind in the United States.